*TRANSPORT TO HOTEL NADIA*
Transportation to hotel

From

To Station

Time min.

Costs Euro

Tram 1, 2 or 5

Central Station
Dam
5
3

Tram 13, 14, 17

Westermarkt
5
3

Bus 170, 171 or 172

Westermarkt
5
3

Taxi

Hotel
5
10

Train

Schiphol Airport
Central Station
20
5

Taxi

Hotel
20
40

Tram 4

RAI Congress
Hotel
20
3
*..TAXI SERVICE WITH PRIVATE DRIVER TO NADIA HOTEL..*
AIRPORT SHUTTLE BUS
AIRPORT SHUTTLE BUS
Transport from Airport to Hotel Nadia
TIME TABLE DEPARTURE & ARRIVALS.
- EVERY 30 min. TILL 21.00
- ONE WAY EURO 17 & RETURN EURO 27
- DIRECT TRANSPORT BETWEEN THE AIRPORT AND HOTEL NADIA.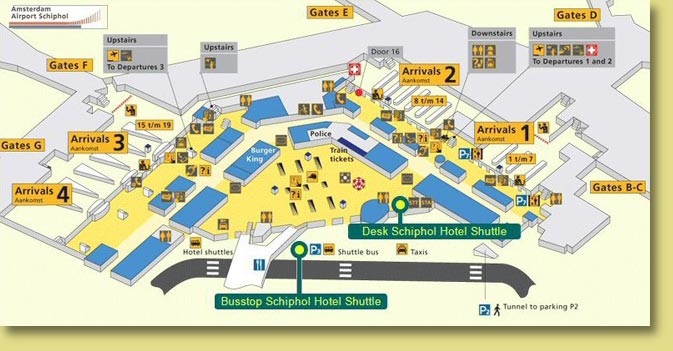 Transport from the airport Schiphol to Amsterdam: NADIA HOTEL
1. By train and taxi
A train station is inside the airport. About 6-7 trains per hour go to Amsterdam Central Station (between 6 am and 11 pm). Between 11 pm and 6 am this is reduced to about 1 train per hour.
For details about the train schedule, please refer to www.ns.nl. (Click on information in English).
Duration: A train ride takes about 15 - 20 minutes, and a single ticket is EURO 3.60 per person /children up to 3 years for free).
2. By taxi
in front of the airport terminal. Cost EURO 40-45./ 20 min.

Advice: the official taxi stand is your best choice. you may be approached by unlicensed taxi drivers offering you a taxi ride. This is an illegal practice, at best ignored.
Be sure you have the correct address with you.
3.By Car from AirPort Schiphol to NADIA HOTEL