Transport & parking
*TRANSPORT TO HOTEL NADIA*
Transportation to hotel

From

To Station

Time min.

Costs Euro

Central Station

Dam

5

3

Westermarkt

5

3

Hotel

5

10

Schiphol Airport

Central Station

20

6

Hotel

20

40

RAI Congress

Hotel

20

3
+++++++++++++++++++++++++++++++++++++++++++++++++++++++++++++

Transport from the Airport Schiphol to NADIA HOTEL
1. By Train to CS and Taxi

A train station is inside the airport. About 6-7 trains per hour to Amsterdam Central Station
(between 6 am and 11 pm). Between 11 pm and 6 am this is reduced to about 1 train per hour.
For details about the train schedule
, please refer to:
TRAIN TIME TABLE
& NS international
A train ride takes about 15 - 20 min, and a single ticket is

€

3.60 per person /
Children up to 3 years for free).
2.
By Taxi
in
front of the airport terminal
.

€

45 / 20 min.
3.

TAXI Service with DRIVER to NADIA HOTEL..*
SCHIPHOL HOTEL TAXI
CAR

Mini VAN

max.7 Pers

€ 50
CAR

max.4 Pers

€ 40

Once you have collected your baggage, proceed through
to the departure hall number 3 and call us.
Our driver will meet you in max. 15 minutes for your transfer.
-

Every 30 min. Till 21.00
- ONE WAY

€

19,50 & RETURN

€

29,50
- DIRECT TRANSPORT.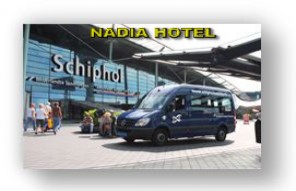 PARKING

It is possible to park your car along the canal.
Please be aware that everywhere in the centre of Amsterdam there is paid parking daily,
from 9.00 hrs - 0.00 hrs, on Sundays from 12.00 hrs - 00.00 hrs
.
It is only possible to pay with maestro or creditcard (no cash).
Costs are 45 euro per 24 hours.
Alternatively, it is possible to park at the public parking "Q-park Europarking, on Marnixstraat 250.
The hotel reception will be able to give directions.
Costs are 40 euro per 24 hours.
This garage is located within about 12 minutes walking distance of the NADIA HOTEL
The Park and Ride (P+R) parking
The Park and Ride (P+R) parking facilities are located on the outskirts of Amsterdam near the ring A-10.
Costs 8,- euro per 24 hours
Easy & affordable parking with Park & Ride
Parking in a P+R car park
Costs 8,- euro per 24 hours till max 96 hours 32 euro
This fee includes FREE public transport to the centre of Amsterdam for a maximum of five people

.
Be sure to read all the instructions below before parking at a P+R location. In addition,
we strongly advise you enter and exit the P+R locations during regular opening hours to ensure that you get the P+R discount rate.
A N W B
IMPORTANT PHONE NUMBERS
++++++++++++++++++++++++++++++++++++++++++++++++++++++++++++++++++++++++++++++++++++++++++++++++++++++++


P+R car parking:
P+R ArenA Transferium
Burgemeester Stramanweg 130, 1101 EP Amsterdam; at the Ajax ArenA stadium, capacity: 500, at freeways A9 and A2, exit Transferium;
Train from the Bijlmer station and metro 54, 50
P+R Bos en Lommer
Leeuwendalersweg 23b, 1055 JE Amsterdam, near the S104 exit from the A10 ring. This car park is open from 7 am to 10 pm.
You may leave the lot with your car at any time 24/7;
Tram 14; bus 15, 21, 80, 82, 247, 315, 352 and metro 50.
P+R Olympisch Stadion
Olympisch Stadion 44, 1076 DE Amsterdam; capacity: 250; located at the ring A10, exit S108
Tram 16, 24
this parking lot has also free bicycles to lend up to two bikes per car your ID will be required).
P+R Sloterdijk
Piarcoplein 1, 1043 DW Amsterdam, at Sloterdijk train station, capacity: 200; freeway A10 exit S102
Train from the Sloterdijk station, metro 50, bus 48 Tram 12
this parking lot has also free bicycles to lend (up to two bikes per car your ID will be required).
P+R Zeeburg I and II
Zuiderzeeweg 46 1095 KJ Amsterdam; at Piet Heintunnel, capacity: 250, from A10 exit S114,
Tram: 26, bus 37, 245.++++++++++++++++++++++++++++++++++++++++++++++++++++++++++++++++++++++++++++++++++++++++++++++++++++++++++++

If you leave your car in an unattended area in the city,
do not leave anything of value in the car.
Please also consider putting this:
"no valuables inside"

warning behind the windows.